14-YEAR-OLD TENNIS STAR COCO GAUFF SIGNS WITH TEAM NEW BALANCE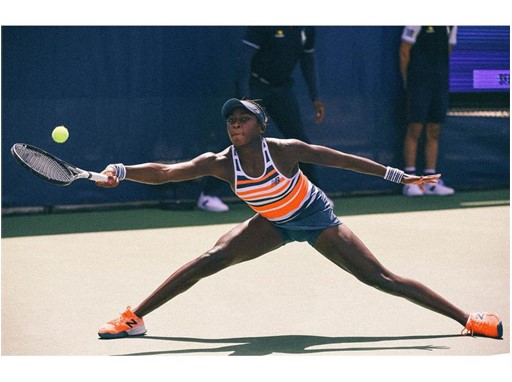 --Becoming the First Tennis Star of Her Generation--
BOSTON, OCTOBER 23, 2018 – Global athletic leader New Balance announced today the signing of 14-year-old tennis star Cori "CoCo" Gauff to a multi-year endorsement contract. Gauff joins an extensive list of Team New Balance tennis athletes including Milos Raonic, Sorana Cîrstea, Danielle Collins and Heather Watson.
Born and raised in Delray Beach, Florida, Gauff started playing tennis at the age of 7. At just 13, she became the youngest girl to make a U.S. Open girls final. Eight months later, Gauff became the fifth-youngest winner of the French Open girls' tournament in June 2018.
"I wasn't expecting this to come so early. I was expecting this to come two or three years from now," said Gauff about her recent win at the French Open. When Gauff is not competing, her time at home consists of training, school work and eventually spending time with her family. "I love to play with my brothers, watch sports with my dad and eat at our family restaurant. When I am home, it feels great to be a normal teenager in the community."
As Gauff trains for a competitive 2019 schedule, she has her eyes set on becoming a top 200 contender. While some may refer to her as the next top female tennis star, Gauff has her own plans to create a legacy for others to follow. "I want to be a role model to as many young athletes as possible. Still to this day, I watch my role models on TV and it motivates me to one day be able to play on the biggest stage," said Gauff.
Gauff is currently ranked 6th in the ITF Juniors Girls ranking.  Follow her journey on Instagram @cocogauff as she trains for the Junior Orange Bowl International Tennis Championship December 9-18, 2018.
About New Balance
New Balance, headquartered in Boston, MA has the following mission: Demonstrating responsible leadership, we build global brands that athletes are proud to wear, associates are proud to create and communities are proud to host. Manufactured in the US for over 75 years and representing a limited portion of our US sales, New Balance Made is a premium collection that contains a domestic value of 70% or greater. New Balance owns five factories in New England and one in Flimby, U.K. New Balance employs more than 6,000 associates around the globe, and in 2017 reported worldwide sales of $4.0 billion. To learn more about New Balance, please visit 
www.newbalance.com
.
For more information, contact:
Michael Crocco
CONTACTS
Michael Crocco

Global PR Manager

United States

-