NB INTRODUCES MINIMUS 20v4 TRAINING SHOE FOR SPRING 2015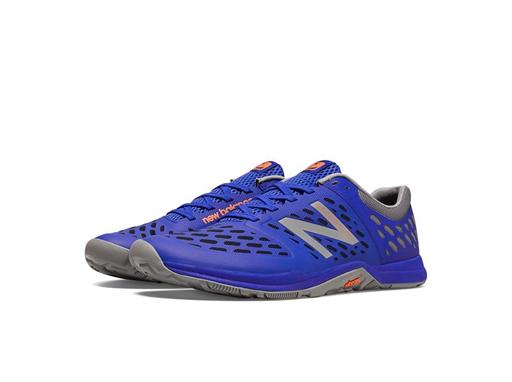 BOSTON, April 2014 - Boston-based New Balance will launch the Minimus 20v4 Trainer for January 2015 an update to the successful 20v3. Engineered to compliment the natural movement of the foot and body during a workout, the 20v4 Training shoe provides barefoot-inspired performance to a gym or circuit workout, while still providing protection and the versatility of traditional trainers. The Minimus 20v4 Trainer will launch January 2015 with a suggested retail price of $99.95.
The Minimus Trainer 20v4 offers a nearly barefoot experience in a shoe that provides protection and versatility.  Perfect for any number of strength training workouts where ground feel and foot strength trump everything else. With a slightly tweaked pattern for improved heel fit and breathability, as well as anti-microbial treatments to resist odor, this shoe is your new workout partner.
The Minimus 20v4 offers a low profile, stable REVlite platform to enhance an athlete's ground feel and to allow for optimum power generation during a workout. The low stack height is also designed provide greater overall stability to help safely perform lifts in the gym, but is flexible and cushioned enough to wear during a middle distance run. A VIBRAM® outsole wraps up the lateral and medial sidewalls to offer supreme durability and traction during rope climbs and other unconventional workouts.
The upper features no sew overlays for added durability as well as welded seams utilizing lightweight, breathable materials to reduce the weight and help eliminate areas of irritation. The shoe conforms to the foot and flexes in every direction, allowing it to move with the body, rather than against it, during the quick side-to-side, front-to-back or diagonal movements found in many rigorous training workouts.
VIBRAM® is a registered trademark of Vibram S.p.A. All Rights Reserved.
About New Balance:
New Balance, headquartered in Boston, MA has the following mission: Demonstrating responsible leadership, we build global brands that athletes are proud to wear, associates are proud to create and communities are proud to host.  New Balance is currently the only major shoe company that manufactures athletic footwear in the U.S.; in 2013, 1 out of every 4 pairs of shoes we sold in the U.S. was made or assembled here.  New Balance owns five factories in New England and one in Flimby, U.K.  New Balance employs more than 4,000 associates around the globe, and in 2013 reported worldwide sales of $2.73 billion. To learn more about how New Balance Makes Excellent Happen, please visit http://www.newbalance.com.
CONTACTS
Caitlin Wholey

Global PR Coordinator

United States

caitlin.wholey@newbalance.com

617-779-7411