Dejounte Murray Joins New Balance and Inspires Us In New Commercial Spot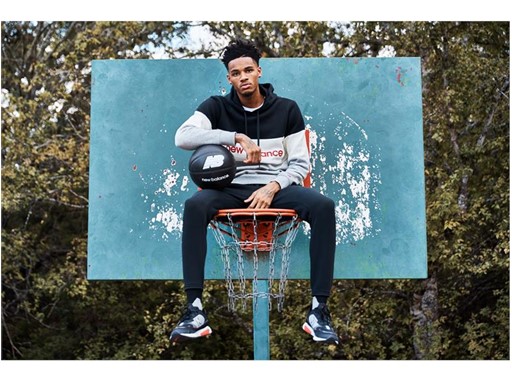 New Balance Basketball announced today the endorsement deal with San Antonio point guard Dejounte Murray. To officially welcome him to the New Balance family, Murray is featured in a new commercial spot where he "inspires us with a little motivation" and reveals the black and white OMN1S colorway "Lights Out" launching globally December 4th.
The commercial's tone is tongue-in-cheek, set by Murray naming himself a "hair icon" – but his message is from the heart. He dispenses motivational tidbits like "success isn't a straight line" and "find your own path", but these truisms find real meaning for a player like Murray, whose road to starting point guard has been anything but conventional. Before Murray earned a reputation as a rising star in the league and an endorsement deal with global athletic leader New Balance, he had to first put in the work.    
"The hard work that I put in every day is a testament to my attitude and outlook as a professional athlete. No matter what obstacles you have in front of you, dedicate yourself and you can overcome adversity," said Murray. "I surround myself with my family and my teammates to stay motivated. This is why I partnered with New Balance – to join a brand that inspires and is a catalyst to positive change."
New Balance Basketball is a co-authored story with athletes like Dejounte Murray – supporting athletes who are setting trends, not following them. "Dejounte's fearless mindset is inspirational. His story is unique in that his path to become a top player wasn't straightforward," said Patrick Cassidy, Director of Consumer and Athlete Activation at New Balance. "Similar to New Balance's aspirations in the basketball category, Dejounte doesn't want to be the biggest, he wants to the best. We are excited to welcome him and to tell his story for the first time." Murray joins the New Balance Basketball roster alongside 2x champion Kawhi Leonard and 2019 first-round draft pick Darius Bazley.
The black and white OMN1S colorway "Lights Out" is the fourth of seven colorways to launch globally before the end of 2019. Beginning December 4
th
, Lights Out will be available on
www.newbalance.com/basketball
, at select global flagship stores and at Shoe Palace & Foot Locker stores in Los Angeles. For exclusive information on New Balance Basketball, follow @NewBalanceHoops on
Instagram
and
Twitter
.
CONTACTS
Michael Crocco

Global PR Manager

United States

-