METS AND NEW BALANCE ANNOUNCE NEW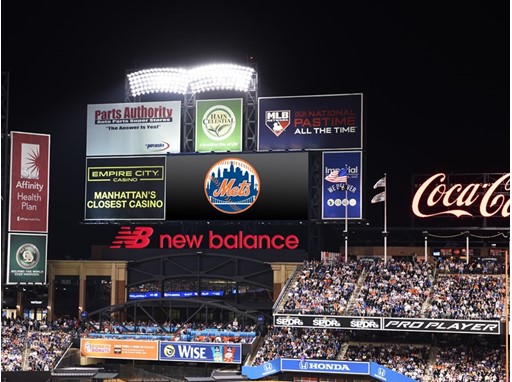 FLUSHING, N.Y., March 22, 2018 – The New York Mets and New Balance have announced a long-term landmark agreement making New Balance the official footwear and apparel company of the Mets and Citi Field. Per club policy, financial terms of the agreement were not disclosed.
The relationship between the two entities will include year-round New Balance presence throughout Citi Field beginning in 2018 including a significant sized sign above the Shea Bridge, below the auxiliary scoreboard, along with external signage outside the ballpark. The agreement will also include uniforms for a variety of staffing groups on event nights at Citi Field in the form of polo shirts, shoes and jackets. Additionally, Mr. Met and Mrs. Met will be decked out with New Balance footwear.
Under this new agreement, signage will also be prominent at First Data Field in Port St. Lucie throughout the year, including spring training, as well as at the Mets Academy in the Dominican Republic.
The Mets and New Balance will collaboratively plan and execute a variety of marketing, advertising, community and promotional programs and platforms to maximize the impact of the partnership, including serving as the Presenting Partner of the Mets Future Stars Program.

"We are excited to join with New Balance as we align our brand with one of the most popular athletic brands in the world," said Mets Chief Operating Officer Jeff Wilpon. "Like the Mets, New Balance has a very loyal fan base, and we are proud to work with them in a variety of ways that implement marketing and community programs at Citi Field and in the New York region."
"Today we are proud to mark the start of a great collaboration between two innovative and sport-focused organizations," said Rob DeMartini, President & CEO for New Balance.  "We both share great passion and commitment to giving back to our local communities and supporting today and tomorrow's baseball players and fans.  This new relationship with Citi Field and the New York Mets will also have tremendous synergy with our New York Road Runners sponsorship and our other brand and retail initiatives in New York City."
New Balance proudly sponsors several New York Mets players including Asdrubal Cabrera, Yoenis Cespedes, Juan Lagares, A.J. Ramos, T.J. Rivera, Amed Rosario, Anthony Swarzak, and Jason Vargas.
About New Balance
New Balance, headquartered in Boston, MA has the following mission: Demonstrating responsible leadership, we build global brands that athletes are proud to wear, associates are proud to create and communities are proud to host. Manufactured in the US for over 75 years and representing a limited portion of our US sales, New Balance Made is a premium collection that contains a domestic value of 70% or greater. New Balance owns five factories in New England and one in Flimby, U.K. New Balance employs more than 6,000 associates around the globe, and in 2016 reported worldwide sales of $3.8 billion. To learn more about New Balance, please visit
www.newbalance.com
.
For more information, contact:                                          
Amy Dow                                                                                Harold Kaufman
Sr.Global Corp Comm Manager                                             Executive Director of Communications
New Balance                                                                          New York Mets
(617)746-2214;
 amy.dow@newbalance.com
                       (718) 559-3108;
hkaufman@nymets.com
###
CONTACTS
PR Intern

-

United States

media.relations@newbalance.com

617-783-4000

Amy Dow

Director Public Relations and Government Affairs

United States

617-746-2214