New Balance: A New Force in Global Football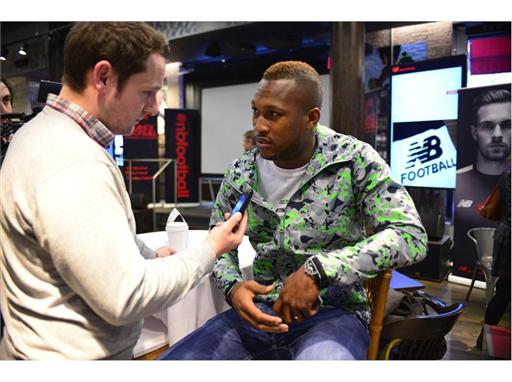 An impressive line-up of international star athletes is revealed by one of sports' longest standing brands
[WEDNESDAY 4th FEBRUARY 2015] For more than 100 years, New Balance has been a key driver of peak performance and technological innovation in many of the world's most popular sports. Today, New Balance is announcing it is now bringing this respected heritage to the world's biggest sport, confirming its much-anticipated entry into the global football market and introducing a ten-strong line-up of stellar international players.
"The pursuit of excellence, a passion for innovation and responsible leadership are the core values that has helped New Balance become one of the most successful sport and lifestyle brands in the world," says Richard Wright, New Balance's General Manager of Football.  "It is these same values that New Balance will now be bringing to football and will help it firmly establish itself at the forefront of the market. Today's announcement marks the beginning of a journey that will see New Balance designing the boots, kit and training apparel for some of the best players and clubs in the game today."
From World Cup and Europa League champions to Premier League and Primeira Liga winners, the players who have been chosen to represent the brand are united by their passion, talent and relentless desire to take themselves and New Balance to the top of football. The line-up includes Aaron Ramsey, Adnan Januzaj, Vincent Kompany, Samir Nasri and Marouane Fellaini, as well as Tim Cahill, Alvaro Negredo, Jesus Navas, Fernando Reges, Nikica Jelavic and Kendall Waston.
On joining the New Balance team, Aaron Ramsey, who became the youngest footballer ever to be named captain of the Welsh national team at 20 years old, said: "New Balance has an incredible innovation team which put players at the heart of designs. I am very excited about the relationship I've developed with them already and what we can achieve together." As a pivotal member of Arsenal's team, Ramsey has already made waves wearing New Balance boots and plans to make many more.
New Balance's signing of Adnan Januzaj, as both a rising star at Manchester United and one of the most inspirational young footballing talents in Europe, is a coup for any brand wanting to reach young footballers around the world. Januzaj has been impressed by the brand's commitment to the sport, "New Balance is already looking ahead, looking for ways to take the game to a new level. I know the company is going to have a lot of people excited about what they will deliver in the next few years."
Vincent Kompany, Manchester City and Belgium Captain, is one of the most respected players in world football and has played a key role in New Balance's expansion into the sport. Kompany said, "From the beginning, New Balance has impressed me. I've spent a lot of time with the whole team and they've really listened to the insights I've been able to give on playing at the top level. Their passion and enthusiasm to make a difference is infectious and I can't wait to see people's reactions to what New Balance is going to do in Football. I believe this brand could be a real game-changer in the market."

The drive to succeed and pride in wanting to be the best, is the basis of the ethos that carries New Balance; finding the right players who personify this pride is essential. Samir Nasri, a key component in Manchester City's Premier League winning side, perfectly embodies that spirit. Nasri said, "I have always liked to do things differently, challenge what people think of me. I believe you see the same attitude in New Balance. They talk to you about every milestone in their history, yet they are driven by what they can achieve in the future. To succeed in this industry, you must have the expertise but also a real hunger and passion. It's a great experience to be a part of this brand's commitment."
Standing out from the crowd on and off the pitch, Manchester United and Belgium midfielder Marouane Fellaini will be one of the players to help the brand to gain global prominence. On joining New Balance, he stated, "I'm very happy to be working with New Balance. I've been testing the prototype boots, and the team are so meticulous in making them the perfect boots for my game. Working with a brand that sees me as an individual, with my own style and meeting my needs is exactly what I want."
Completing the line-up are a group of fast, powerful and formidable players; Manchester City's Jesus Navas and Fernando Reges, Valencia's Alvaro Negredo, Hull City's Nikica Jelavic, Tim Cahill of the Shanghai Shenhua and Kendall Waston of the Vancouver Whitecaps, all of whom provide New Balance with an impressive and influential presence on the pitch.
"This collection of world class footballers will bring the brand promise of New Balance to life both on and off the pitch," says Richard Wright, New Balance's General Manager of Football. "Each player represents a unique set of qualities, which together create an enviable group – and one which will enable New Balance Football to showcase its products and expertise in innovation at very highest level of the game. We believe this line-up makes a powerful statement about what New Balance wants to achieve in football." 
ENDS
About New Balance Football
In 2015, New Balance is bringing its expertise, passion, and innovation to the world's greatest game, football.  New Balance Football takes an original approach to designing and developing product, focusing on the unique needs of the player and the game. This is reflected in the quality of the sponsorships it has secured, including an enviable line up of the some of the world's great football clubs including Liverpool FC, FC Porto, Sevilla FC and Stoke City and as well a roster of top flight players who excel at the highest level of the game. For more information about New Balance Football, visit www.newbalance.com/football.  New Balance Football can be found on Facebook, Twitter, Instagram and YouTube.
About New Balance:
New Balance, headquartered in Boston, MA has the following mission: Demonstrating responsible leadership, we build global brands that athletes are proud to wear, associates are proud to create and communities are proud to host. New Balance is the only major company to make or assemble more than 4 million pairs of athletic footwear per year in the USA, which represents a limited portion of our US sales. Where the domestic value is at least 70%, we label our shoes Made in the USA. New Balance owns five factories in New England and one in Flimby, U.K. New Balance employs more than 4,000 associates around the globe, and in 2013 reported worldwide sales of $2.73 billion. To learn more about New Balance, please visit www.newbalance.com
CONTACTS
Mary Lawton

Global PR Manager

United States

mary.lawton@newbalance.com

617-746-2525