NEW BALANCE AND NEW YORK ROAD RUNNERS ANNOUNCE MULTI-YEAR ALLIANCE FEATURING SPONSORSHIP OF EVENTS AND YOUTH RUNNING INITIATIVES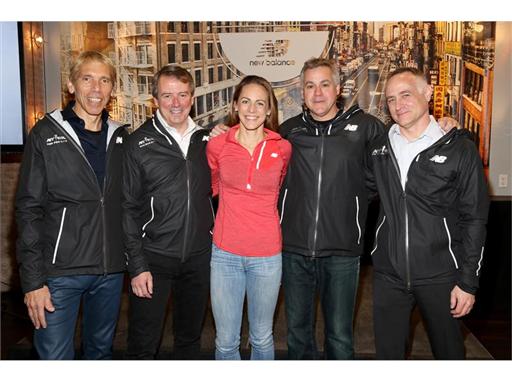 BOSTON, MA and NEW YORK, NY DECEMBER 8, 2015 – New Balance and New York Road Runners (NYRR) announced a new multi-year agreement today that features year-round engagements with NYRR events, programs and youth running initiatives. The new relationship, which will launch gradually in 2016 and reach full engagement in 2017, covers a wide range of areas including event sponsorship, youth programming, global licensing as well as e-commerce and retail rights for footwear and apparel. The alliance will bring together New Balance's innovative athletic products and one of the world's leading running organizations to serve the global running community in a new and inspiring way.
In 2016, New Balance will expand upon its current official footwear and apparel sponsorship of the Airbnb Brooklyn Half by becoming the title sponsor of the New Balance Bronx 10-Mile and the New Balance 5th Avenue Mile. New Balance will also work together with NYRR on the opening of the new NYRR running center, set to open later in 2016 near Columbus Circle. The running center will serve as the hub for NYRR runner services and will feature an exciting New Balance retail component. 
Then in 2017, New Balance becomes an NYRR foundation partner and the Official Athletic Footwear and Apparel Partner of NYRR. The year-round engagement will feature sponsorship of the NYRR Five-Borough Series (United Airlines NYC Half, Airbnb Brooklyn Half, NYRR Queens 10K, New Balance Bronx 10-Mile and NYRR Staten Island Half), NYRR Heritage Races (NYRR New York Mini 10K, New Balance 5th Avenue Mile and the NYRR Midnight Run) and the TCS New York City Marathon. New Balance will also be a sponsor of NYRR's weekly races, as well as exclusively produce all race shirts for runners throughout the year, a first for NYRR.  Additionally beginning in 2017, New Balance will manage NYRR's e-commerce platform.
"New Balance and New York Road Runners share a commitment to quality, innovation and giving back to the communities they are a part of," says Rob DeMartini, President and CEO of New Balance. "We are proud to join forces with an organization where we align on many core values and look forward to offering the best in New Balance gear to the global runners participating in NYRR events throughout the year."
"This year-round alliance is a first in the category for New York Road Runners and was made possible by our unified vision of a world where people of all ages and abilities benefit from running," said Michael Capiraso, President and CEO of New York Road Runners. "We're excited to partner with New Balance on our continuing efforts to get kids moving in a fun and rewarding way while serving the global running community with world-class programming and innovative athletic products."
As a highlight of the two organizations shared values and commitment to youth health and fitness, once the new NYRR running center opens, for every pair of New Balance shoes sold at the NYRR running center, NYRR and New Balance plan to donate an additional pair to youngsters in need throughout the five boroughs of New York City. To celebrate the new relationship, Team New Balance athlete Jenny Simpson, 4-time champion of the NYRR 5th Avenue Mile, participated in a running clinic with a NYRR Mighty Milers class at PS114 in the Bronx, showcasing the spirit of the long-term agreement.
"The new relationship between New Balance and New York Road Runners presents many exciting opportunities for runners and fans alike," said Peter Ciaccia, President of Events for New York Road Runners and Race Director of the TCS New York City Marathon. "From creating distinctive pre-race experiences and events, to pioneering new approaches to youth running, to amplifying our television broadcasts, the sky's the limit."
About New Balance
New Balance, headquartered in Boston, MA has the following mission: Demonstrating responsible leadership, we build global brands that athletes are proud to wear, associates are proud to create and communities are proud to host. New Balance is the only major company to make or assemble more than 4 million pairs of athletic footwear per year in the USA, which represents a limited portion of our US sales. Where the domestic value is at least 70%, we label our shoes Made in the USA. New Balance owns five factories in New England and one in Flimby, U.K. New Balance employs more than 5,000 associates around the globe, and in 2014 reported worldwide sales of $3.3 billion. To learn more about New Balance, please visit www.newbalance.com
About New York Road Runners
Founded in 1958, New York Road Runners has grown from a local running club to the world's premier community running organization, whose mission is to help and inspire people through running. NYRR's commitment to New York City's five boroughs features races, community events, youth running initiatives, school programs, and training resources that provide hundreds of thousands of people each year, from children to seniors, with the motivation, know-how, and opportunity to Run for Life. NYRR's premier event, and the largest marathon in the world, is the TCS New York City Marathon. Held annually on the first Sunday in November, the race features 50,000 runners, from the world's top professional athletes to a vast range of competitive, recreational, and charity runners. Tata Consultancy Services (TCS) is the Premier Partner of New York Road Runners. To learn more, visit www.nyrr.org. 
CONTACTS
Mary Lawton

Global PR Manager

United States

mary.lawton@newbalance.com

617-746-2525