New Balance announces an exclusive adviser contract with Mr. Hitoshi Mimura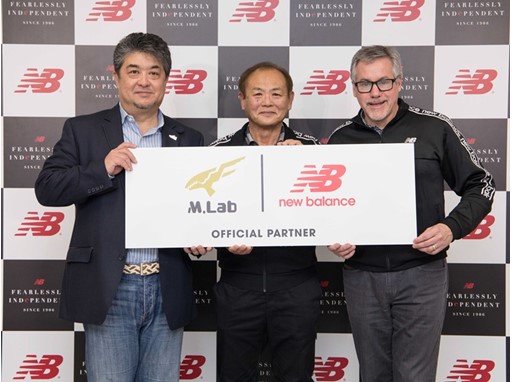 News Release
                                                                                                         January 17, 2017

BOSTON, JANUARY 2018 - New Balance Athletics, Inc. announced the contract with M.Lab (Mimulabo) and Mr. Hitoshi Mimura who is known as the shoe maker. Mr. Mimura becomes the exclusive advisor of New Balance. He has been supporting many world-class athletes by his shoes. New Balance will work with Mr. Mimura to develop and supply New Balance products to top athletes, and high-quality shoes for runners in the world. We will support athletes who challenge the world stage and runners who enjoy daily running.
"This exciting initiative with Mr. Mimura is another significant step towards New Balance becoming the world's best running brand. The knowledge and passion Mr. Mimura brings, as a performance footwear craftsman, aligns perfectly with New Balance. Together we will bring footwear to the marketplace that enables runners to reach their highest potential and compete at their fastest level, " said Tom Carleo New Balance Vice President of Running.
"New Balance showed me a strong desire to work together. And I felt that New Balance understand my desire that I want to strengthen athletes. I always think that I want to work with my dreams. First of all, I will aim to be No. 1 in running, and to impress the athletes. I feel that there is possibility in both New Balance and me. I would like to challenge towards No.1 with a strong feeling, working together." said Hitoshi Mimura.
New Balance will continue to support the challenges of runners around the world through products, athletes support, and as event sponsors.
Hitoshi Mimura
Born in Hyogo, Japan in 1948. After his career as an athlete in his school days, he joined the Japanese sports brand in 1966. He was involved in manufacturing shoes and started manufacturing bespoke shoes for athletes from 1974. Since 2009, he has launched "M. Lab (Mimulabo)" and supported many world-class athletes with the shoes made by him. Since January 1, 2018 New Balance and "M. Lab" have concluded a global partnership and Mr. Mimura has become the exclusive advisor of New Balance.
About New Balance
New Balance, headquartered in Boston, MA has the following mission: Demonstrating responsible leadership, we build global brands that athletes are proud to wear, associates are proud to create and communities are proud to host. Manufactured in the US for over 75 years and representing a limited portion of our US sales, New Balance Made is a premium collection that contains a domestic value of 70% or greater. New Balance owns five factories in New England and one in Flimby, U.K. New Balance employs more than 6,000 associates around the globe, and in 2016 reported worldwide sales of $3.8 billion. To learn more about New Balance, please visit www.newbalance.com.
###
CONTACTS
Amy Dow

Director Public Relations and Government Affairs

United States

617-746-2214

Kate Tetirick

Global PR Manager

United States

Kate.Tetirick@newbalance.com

617-746-2570

PR Intern

-

United States

media.relations@newbalance.com

617-783-4000