New Balance Football announces sponsorship of Costa Rican Football Federation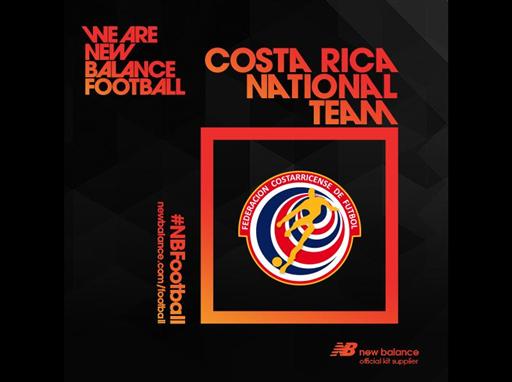 New Balance becomes official kit supplier to 'The Ticos'
[TUESDAY 7th APRIL 2015] Today New Balance announces its kit sponsorship deal with the Costa Rican national football team. The deal will see New Balance design kits and training gear for the national men's and women's teams as well as youth, beach soccer and futsal teams.
Costa Rica is currently 13th in FIFA's world rankings, having climbed 53 places in just three years. The team reached the quarter finals on the world's largest footballing stage in Brazil last year, and have shown their desire to challenge some of the biggest nations in football. The women's national team, who have risen to 37th in FIFA's world rankings, are taking their positive momentum to Canada this summer for the first time. Pitted against Brazil, Spain and Republic of Korea in the group stages, they are ready to do battle wearing the red, blue and white with pride.
Eduardo Li, President, Costa Rican Football Federation talked about what the new deal means for the country: "Costa Rica has a proud footballing tradition with big aspirations for the future; much like New Balance Football. This sponsorship will give our squads of talented players the best kit and equipment available to ensure we keep competing at the highest levels."
Richard Wright, General Manager of New Balance Football, said: "Costa Rica is one of the most successful and decorated nations in Central America and we are pleased to be working with a country with the drive and determination to mix it with the best in the world. The passion with which the team plays is obvious - from the gifted players, to the thousands that come to support them –  it is an honour to be supplying our products to help ensure Costa Rica remains a force to be reckoned with for years to come."
ENDS
About New Balance Football
In 2015, New Balance is bringing its expertise, passion, and innovation to the world's greatest game, football.  New Balance Football takes an original approach to designing and developing product, focusing on the unique needs of the player and the game. This is reflected in the quality of the sponsorships it has secured, including an enviable line up of the some of the world's great football clubs including Liverpool FC, FC Porto, Celtic FC, Sevilla FC and Stoke City FC and Panama National Team and as well a roster of top flight players who excel at the highest level of the game. For more information about New Balance Football, visit www.newbalance.com/football.  New Balance Football can be found on Facebook, Twitter, Instagram and YouTube.
About New Balance:
New Balance, headquartered in Boston, MA has the following mission: Demonstrating responsible leadership, we build global brands that athletes are proud to wear, associates are proud to create and communities are proud to host. New Balance is the only major company to make or assemble more than 4 million pairs of athletic footwear per year in the USA, which represents a limited portion of our US sales. Where the domestic value is at least 70%, we label our shoes Made in the USA. New Balance owns five factories in New England and one in Flimby, U.K. New Balance employs more than 4,000 associates around the globe, and in 2013 reported worldwide sales of $2.73 billion. To learn more about New Balance, please visit www.newbalance.com
CONTACTS
Mary Lawton

Global PR Manager

United States

mary.lawton@newbalance.com

617-746-2525