New Balance launches its first football brand advert '#NBFootball'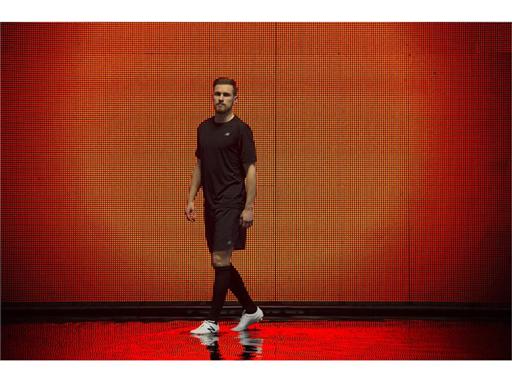 Advert features players highlighting New Balance Football's drive to succeed
[WEDNESDAY 25 MARCH 2015] Today New Balance launches the brand's first football advertisement '#NBFootball'; aimed at encapsulating New Balance's approach to the sport. Directed by award winning filmmaker Marie Schuller, the film stars New Balance Football athletes Aaron Ramsey, Adnan Januzaj, Samir Nasri, Fernando Reges, Vincent Kompany, Marouane Fellaini and Jesus Navas.
The New Balance film highlights the commitment it takes to become a better athlete and the never-ending drive to improve. It's not about one victory, one run or one goal. It's about every victory, every run and every goal. It emphasises how football is more than 90 minutes, more than 11 versus 11 and more than just winning – it's the commitment to carry on, to not rest or ever take it easy.
Set against the backdrop of a giant LED screen, we see the players being put through their paces as graphics communicate how New Balance – and their athletes – are relentlessly driven to be better and go further, every minute of every session, every day of every season.
Director Marie Schuller – who previously filmed campaigns for a number of high profile fashion brands and retailers – gives the film its unique, highly graphic and stylized look. She says: "This film is all about striving to be better. The New Balance players each have immense talent but that alone is not enough, becoming a better athlete is the motivation that drives them on. Each scene aims to capture the relentless pursuit of excellence, the fact they never stop pushing to improve. Stylistically we set out to create a cool and contemporary film which was different to anything the category would do."
The anthemic music track that accompanies the film and which exudes the high energy of the brand is an original composition by Chris Karloff from Black Onassis, a former member of the indie rock band Kasabian.
Kenny McCallum, Global Brand Manager for Football at New Balance says about the brand's first football ad: "We want to communicate the essence and attitude of New Balance Football. The heart of the concept is how we – and our athletes – are relentlessly driven to be better. We are highly competitive, innovative and fearless and we place the player at the centre of everything we do. We want to show the stories and reality behind what we see on the pitch – the constant hard work our brand and players put in to be better."
The first collection of New Balance boots will be available at retail from July 2015. The #NBFootball ad can be viewed on the New Balance Football YouTube channel at http://youtu.be/caMJWL4ceXw​.
ENDS
About New Balance Football
In 2015, New Balance is bringing its expertise, passion, and innovation to the world's greatest game, football.  New Balance Football takes an original approach to designing and developing product, focusing on the unique needs of the player and the game. This is reflected in the quality of the sponsorships it has secured, including an enviable line up of the some of the world's great football clubs including Liverpool FC, FC Porto, Sevilla FC and Stoke City and as well a roster of top flight players who excel at the highest level of the game. For more information about New Balance Football, visit www.newbalance.com/football.  New Balance Football can be found on Facebook, Twitter, Instagram and YouTube.
About New Balance:
New Balance, headquartered in Boston, MA has the following mission: Demonstrating responsible leadership, we build global brands that athletes are proud to wear, associates are proud to create and communities are proud to host. New Balance is the only major company to make or assemble more than 4 million pairs of athletic footwear per year in the USA, which represents a limited portion of our US sales. Where the domestic value is at least 70%, we label our shoes Made in the USA. New Balance owns five factories in New England and one in Flimby, U.K. New Balance employs more than 4,000 associates around the globe, and in 2013 reported worldwide sales of $2.73 billion. To learn more about New Balance, please visit www.newbalance.com
CONTACTS
Mary Lawton

Global PR Manager

United States

mary.lawton@newbalance.com

617-746-2525