NEW BALANCE PROGRAM LAUNCHES TO PRESSURE TEST NEW IDEAS IN PERFORMANCE FOOTWEAR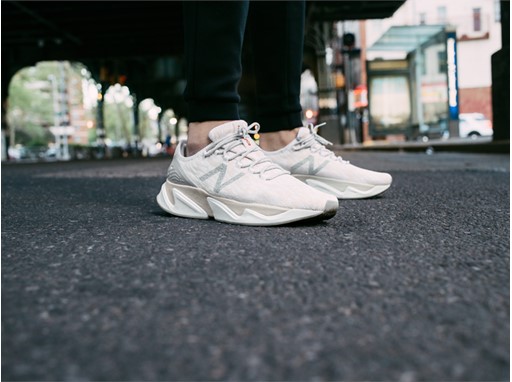 -- PRJ 1.0 Shoe Combines a 90's Aesthetic with Max Cushioning --  
BOSTON, MA – For more than 100 years, New Balance has been challenging the conventions of the footwear industry from the release of the 990, the first $100 running shoe, to the development of the Fresh Foam cushioning technology to now, developing a program that is dedicated to testing new and unique ideas in performance footwear. The program began in December 2017 to challenge the product creation process from design input to consumer feedback and has just released the first design.
"Often times our designers have unique ideas that don't necessarily fit a product brief. We wanted to launch a program that aims to bring these footwear concepts to life," said New Balance Running SBU Manager Kevin Fitzpatrick.  "aims to bring new and disruptive footwear concepts to market quickly and then uses consumer feedback & data to determine scalability."
The first shoe of the program, PRJ 1.0, combines a 90's aesthetic with proven performance benefits of big cushioning. A full length Abzorb midsole cradled by an Acteva support rim offers one of our most plush rides ever. It's bold cushioning with bold style.
"PRJ 1.0 came about in a very unique way. Originally on the chopping block, as the concept made its way around, it received a lot of interest from progressive thinkers. We knew we were onto something and worked to bring it from concept to market in a short eight months. It required bending a lot of rules and removing some roadblocks in the traditional product creation process that can last 18 months," explained New Balance Running Senior Designer Chad Marianelli. "For, we will use consumer feedback to help us shape the future of performance footwear."
For more information, contact:
Michael Crocco
Associate Energy Marketing Manager
New Balance
About New Balance
New Balance, headquartered in Boston, MA has the following mission: Demonstrating responsible leadership, we build global brands that athletes are proud to wear, associates are proud to create and communities are proud to host. Manufactured in the US for over 75 years and representing a limited portion of our US sales, New Balance Made is a premium collection that contains a domestic value of 70% or greater. New Balance owns five factories in New England and one in Flimby, U.K. New Balance employs more than 6,000 associates around the globe, and in 2017 reported worldwide sales of $4.0 billion. To learn more about New Balance, please visit 
www.newbalance.com
.