New Balance Signs Record Deal And Long Term Sponsorship Of Liverpool Football Club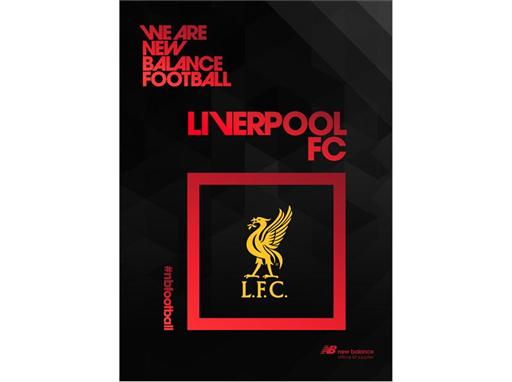 New Balance puts pen to paper on a record deal with the Reds
[WEDNESDAY 4 FEBRUARY, 2015] New Balance and Liverpool FC today announced a record deal for the club which sees New Balance Football become the club's official kit supplier.
The agreement will see New Balance work alongside LFC to deliver world class product on pitch in line with the club's ambitions to perform at the highest levels of the game. New Balance will be responsible for designing the club's kits, along with all training apparel. As part of the deal LFC product will be sold through New Balance retail stores globally and will drive New Balance's growth and entry into the football market.
"We are thrilled to announce this sponsorship of one of the world's leading sportswear brands, which is a record-breaking deal for the Club", commented Billy Hogan, Chief Commercial Officer at Liverpool FC.
"Like Liverpool FC, New Balance has over 100 years of heritage and a global footprint. Not only are they well known for their technical innovation across a range of sports but they also have a presence in many countries across the world, which will all feature LFC kit. We are very excited about joining forces with them", he added.
Richard Wright, General Manager of New Balance Football said: "Liverpool FC is one of the most successful and decorated clubs in world football and we're delighted to partner with the club. The sponsorship represents an important step for New Balance launching into football and reflects the global growth ambitions of the brand. Over the course of the contract New Balance will bring innovation and world class product to Liverpool FC and its global fan base."
New Balance's sponsorship with Liverpool FC continues the strong and ongoing relationship with Fenway Sports Group (FSG). The sportswear manufacturer also has a long-standing relationship with the Boston Red Sox and has previously been involved with Roush Fenway, both owned by FSG.
Liverpool Football Club announced its first ever official club kit supplier agreement with Warrior, a brand owned by New Balance, when the club released the LFC home, away and 3rd kit in 2012. The tremendous success of this initiative led the New Balance to decide to launch in the global football market in 2015. Warrior continues to deliver innovative products in performance sports including lacrosse and ice hockey
ENDS
About New Balance Football
In 2015, New Balance is bringing its expertise, passion, and innovation to the world's greatest game, football.  New Balance Football takes an original approach to designing and developing product, focusing on the unique needs of the player and the game. This is reflected in the quality of the sponsorships it has secured, including an enviable line up of the some of the world's great football clubs including Liverpool FC, FC Porto, Sevilla FC and Stoke City and as well a roster of top flight players who excel at the highest level of the game. For more information about New Balance Football, visit www.newbalance.com/football.  New Balance Football can be found on Facebook, Twitter, Instagram and YouTube.
About New Balance:
New Balance, headquartered in Boston, MA has the following mission: Demonstrating responsible leadership, we build global brands that athletes are proud to wear, associates are proud to create and communities are proud to host. New Balance is the only major company to make or assemble more than 4 million pairs of athletic footwear per year in the USA, which represents a limited portion of our US sales. Where the domestic value is at least 70%, we label our shoes Made in the USA. New Balance owns five factories in New England and one in Flimby, U.K. New Balance employs more than 4,000 associates around the globe, and in 2013 reported worldwide sales of $2.73 billion. To learn more about New Balance, please visit www.newbalance.com
CONTACTS
Mary Lawton

Global PR Manager

United States

mary.lawton@newbalance.com

617-746-2525