New Balance Strike Deal With Dragões FC Porto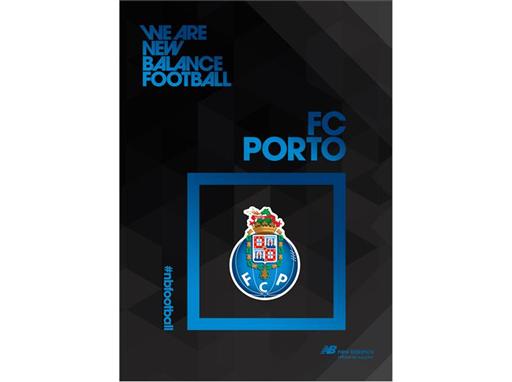 New Balance Football signs the most successful Primeira Liga club
[WEDNESDAY 4 FEBRUARY, 2015] New Balance has today officially announced a sponsorship deal to supply kits and training apparel to the prestigious Portuguese club, FC Porto.
The deal with FC Porto, with its wealth of history in competing in the top flight European competitions, enables New Balance Football to make a distinct impact on European football from day one. The long term sponsorship sees New Balance bring its unique innovative approach to kit design and development to the club and its fans.
Jorge Nuno Pinto da Costa, President of FC Porto, said "This is the perfect football brand for FC Porto. The ambitions for global expansion, a desire to represent the fans in every fibre of the product designs and the commitment to constant innovation, all reflects our own principles. I know our supporters will be very excited by the announcement of this new sponsorship."
Richard Wright, General Manager of New Balance Football, said: "We are delighted to have FC Porto join the New Balance Football family. The club is internationally recognised for producing and nurturing top, young footballing talent that excite their fans with their flair and panache. FC Porto is an incredibly entertaining club to watch and have earned the right to sit amongst Europe's footballing elite. This is more than just a football club; it's a way of life and we are immensely proud to be able to announce this sponsorship."
ENDS
About New Balance Football
In 2015, New Balance is bringing its expertise, passion, and innovation to the world's greatest game, football.  New Balance Football takes an original approach to designing and developing product, focusing on the unique needs of the player and the game. This is reflected in the quality of the sponsorships it has secured, including an enviable line up of the some of the world's great football clubs including Liverpool FC, FC Porto, Sevilla FC and Stoke City and as well a roster of top flight players who excel at the highest level of the game. For more information about New Balance Football, visit www.newbalance.com/football.  New Balance Football can be found on Facebook, Twitter, Instagram and YouTube.
About New Balance:
New Balance, headquartered in Boston, MA has the following mission: Demonstrating responsible leadership, we build global brands that athletes are proud to wear, associates are proud to create and communities are proud to host. New Balance is the only major company to make or assemble more than 4 million pairs of athletic footwear per year in the USA, which represents a limited portion of our US sales. Where the domestic value is at least 70%, we label our shoes Made in the USA. New Balance owns five factories in New England and one in Flimby, U.K. New Balance employs more than 4,000 associates around the globe, and in 2013 reported worldwide sales of $2.73 billion. To learn more about New Balance, please visit www.newbalance.com
CONTACTS
Mary Lawton

Global PR Manager

United States

mary.lawton@newbalance.com

617-746-2525