TEAM NEW BALANCE SIGNS TOP US RUNNER EMMA COBURN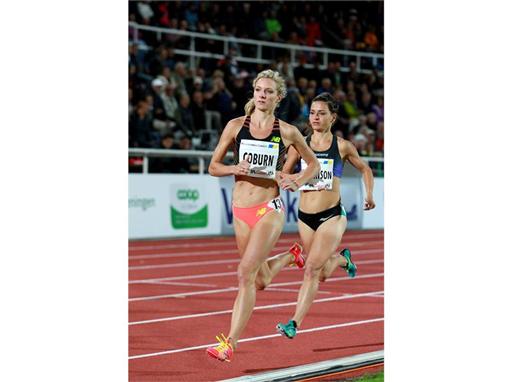 Boston, June 9, 2013 – Global athletic leader New Balance announced today the signing of 2012 Olympic Steeplechase Finalist and two-time U.S. National Champion, Emma Coburn to a multi-year endorsement contract.  Coburn a Crested Butte, Colorado native and recent graduate of University of Colorado, is one of the top female middle distance runners in the world.
"I am thrilled to join Team New Balance as I start my professional career," says Emma Coburn.  "New Balance has a long-standing history as an excellent running company and I am honored to become a part of it. I look forward to a bright future and partnership with Team New Balance."
"We are really excited to welcome Emma into the New Balance running family.  She is joining a talented group of fast New Balance athletes and will fit in well with our efforts in the running category," says Tom Carleo, Vice President of Running at New Balance.  "Emma has the intelligence and personality that align well with our growing Team New Balance roster.   We look forward to learning from Emma and helping her achieve her athletic dreams with the best in New Balance product, technology and service."
As a three-time NCAA Champion, the 2011 U.S. Steeplechase Champion, U.S. Olympic Trials Champion and after placing 9th overall in the Steeplechase at the 2012 Summer Olympics, Coburn has established herself as an expert in this unique event.  Under the coaching of Mark Wetmore and Heather Burroughs, Coburn will be reunited with Jenny Simpson in her professional running career.  Simpson, a former teammate at University of Colorado, is a 2009 U.S. Steeplechase Champion, 2011 World Champion and a member of Team New Balance.  
The first event Coburn will compete in as a part of Team New Balance will be the USATF Nationals in Des Moines, Iowa June 20th – 23rd where she will look to regain her title in the Steeplechase.
About New Balance:
New Balance, headquartered in Boston, MA has the following mission: Demonstrating responsible leadership, we build global brands that athletes are proud to wear, associates are proud to create and communities are proud to host.  New Balance is currently the only athletic shoe company that manufactures footwear in the U.S. with 25% of our U.S. footwear shipments produced at five New England facilities. The company also operates a manufacturing facility in Flimby, U.K.  New Balance employs more than 4,000 associates around the globe, and in 2012 reported worldwide sales of $2.39 billion. To learn more about how New Balance Makes Excellent Happen, please visit http://www.newbalance.com.
CONTACTS
Mary Lawton

Global PR Manager

United States

mary.lawton@newbalance.com

617-746-2525