TOPPING OFF CEREMONY FOR WARRIOR ICE ARENA AT BOSTON LANDING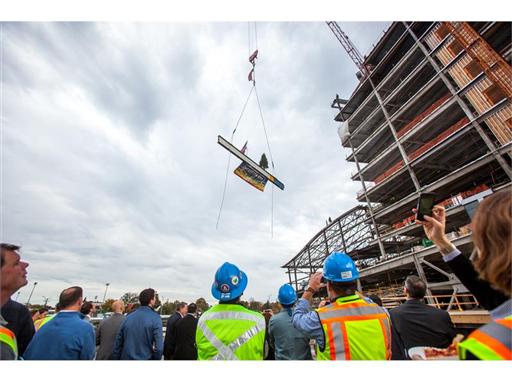 WHAT: The topping off ceremony for Warrior Ice Arena, the Boston Bruins' new practice facility at Boston Landing.
This public event will celebrate the workers on the site of Warrior Ice Arena and the 10-story office tower at 80 Guest Street. All guests will be invited to sign the beams before they are raised to complete the structures which is scheduled to open September 2016.
"If it wasn't for the community support, we wouldn't have been able to accomplish what is here at Boston Landing today," said Jay Rourke, Project Manager, NB Development Group. "A heartfelt thank you to every individual that took the time to help us transform this area into a thriving part of Allston/Brighton. We are proud for the accomplishments we have achieved together and look forward to continuing to make this a community we can all be proud to call our own."
"It's been less than a year since we broke ground on this practice facility, and we couldn't be happier with the progress. Through the dedication of New Balance and all of the people involved in the project, we are on target to be in our new first class training facility within the Boston city limits by the start of next season, and our organization could not be more excited" said Cam Neely, President, Boston Bruins.
"The Warrior Ice Arena at Boston Landing will provide the Boston Bruins with a great new practice facility. Ultimately bringing sporting entertainment to thousands of local and visiting fans, thanks to all of the many dedicated workers and partners who made this possible. In part, because of efforts like this, Boston is one of the greatest sporting cities in this nation. I look forward to a great season ahead and seeing fun activities on the ice" said Martin Walsh, Mayor, City of Boston.
WHO:   
Jim Halliday, Managing Director, NB Development Group
Jim Davis, Chairman, New Balance Athletics, Inc.
Martin Walsh, Mayor, City of Boston
Cam Neely, President, Boston Bruins
Tom O'Brien, Managing Director, the HYM Investment Group
Jay Rourke, Project Manager, NB Development Group
WHEN: Thursday, October 22 at 11 a.m.
WHERE: Boston Landing Development Site, 80 Guest Street, Boston, MA 02135
CONTACTS:     Mary Lawton, New Balance, 617-746-2214 , mary.lawton@newbalance.com
                         Mary Zanor, Regan Communications, 617-356-4012
, mzanor@regancomm.com
                        Matthew Chmura, Boston Bruins, (617) 624-1913
, mchmura@bostonbruins.com
CONTACTS
Mary Lawton

Global PR Manager

United States

mary.lawton@newbalance.com

617-746-2525