New Balance Football create bespoke Rose Lavelle boot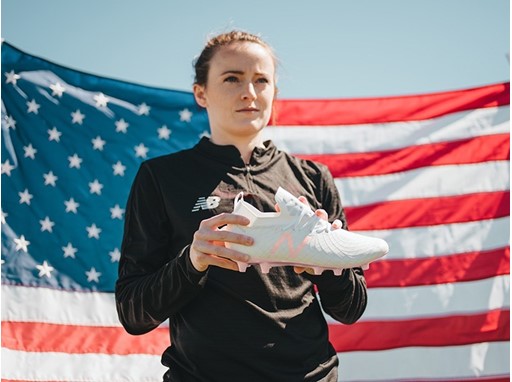 --USA star to wear Rose Gold Tekela v1s this summer--
New Balance Football has created a Rose Gold boot for USA international Rose Lavelle to wear at this summer's tournament in France. 
The special edition Tekela v1 will feature a rose gold outsole and rose gold details, with the USA flag proudly emblazoned on the heal of the boot.  
Rose will step out in the Rose Gold edition boots on 11 June, when the USA take on Thailand in their opening match of the tournament.  
The 24-year-old creative playmaker, who plays her club football for Washington Spirit in the NWSL is set to represent her country in a major tournament for the first time.  
Rose added: 'I'm very excited to represent my country, and we will give everything to bring the trophy home with us. I can't wait to wear my personalised Tekela boots in France during the tournament'. 
New Balance Football's Tekela v1 is made for untouchable playmakers like Rose, who are fearlessly creative. Touch, feel and manoeuvrability are at the heart of the design.  
The boots key attributes are: 
A full foot micro fibre upper with kinetic stitch and embroidered bands for stability, instant touch and cutting edge feel and manoeuvrability. 
A conical stud combination and lightweight chassis, to allow for razor sharp precision and ultra-responsive touch.  
About New Balance Football 
New Balance Football takes an original approach to designing and developing product, focusing on the unique needs of the player and the game. This is reflected in the quality of the sponsorships it has secured, including an enviable line up of some of the world's great football clubs including Liverpool FC, Celtic FC, FC Porto, Athletic Club, LOSC Lille and national football teams, Republic of Ireland, Costa Rica and Panama as well as a roster of top flight players who excel at the highest level of the game. For more information about New Balance Football, visit www.newbalance.com/football.  New Balance Football can be found on Facebook, Twitter, Instagram) and YouTube. 
New Balance, headquartered in Boston, MA has the following mission: Demonstrating responsible leadership, we build global brands that athletes are proud to wear, associates are proud to create and communities are proud to host. Manufactured in the US for over 75 years and representing a limited portion of our US sales, New Balance Made is a premium collection that contains a domestic value of 70% or greater. New Balance owns five factories in New England and one in Flimby, U.K. New Balance employs more than 6,000 associates around the globe, and in 2017 reported worldwide sales of $4.0 billion. To learn more about New Balance, please visit www.newbalance.com. 
Released by Racepoint Global on behalf of New Balance Football.  
For more information or to request images, please contact: 
Tel: +44 (0) 20 8811 2129 
CONTACTS
Michael Crocco

Global PR Manager

United States

-
MORE FROM ATHLETE & SPORTS NEWS
SUBSCRIBE TO RSS FEED
XML