'Game On' or 'Game Over' – New Balance Soccer Releases New Furon Boot for Attacking Players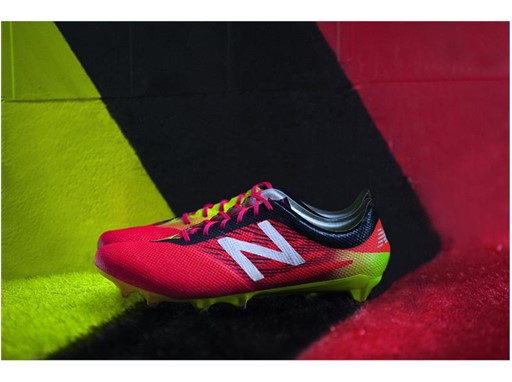 London, UK and Boston, MA - May 10, 2016 - New Balance Soccer today officially revealed the next step in the evolution of the Furon footwear collection and a brand new colorway for the popular Visaro boot silo.
Since its release last year, Furon has been seen on some of the world's biggest stages through Valencia FC striker Álvaro Negredo, Manchester City winger Jesús Navas and Hangzhou Greentown F.C midfielder Tim Cahill. The Furon 2.0 is engineered for those who play for that single, momentous opportunity, the one chance to decide the game and define the outcome. These players thrive under immense pressure and take their opportunities. If the ball drops to a Furon player, it's Game Over for the opposition.
The Furon 2.0 has a Bright Cherry Hybrid Mesh Upper which has been engineered for unparalleled speed, exceptional feel and a clean precision strike in all conditions. Brand new to the boot is a Galaxy Sprint Spike inspired collar, with an asymmetrical adaptive fit giving explosive acceleration and outstanding comfort.
Top Line Lacing has been introduced for a locked in and precision fit with unsurpassed comfort along with ultralight Fantom Fit Bright Cherry overlays for outstanding strength and support when needed most.  Ultra-Directional Studs give unrivaled speed for those players who have to be first to the ball.
The new Furon 2.0 will hit the pitch for the first time during the final weekend of the Premier League and La Liga seasons, and will be seen on the international stage in France this summer.
Furon 2.0 striker and prolific goal scorer Álvaro Negredo said, "I really like the new Furon. New Balance has taken on feedback about the original boot, retaining the best parts but introducing changes that have a big impact. It is extremely light and with the improved support and comfort, holds my foot comfortably when I change direction and hit top speed. I also think it looks great!"
Complimenting this release is a color-up for the popular Visaro worn by Aaron Ramsey, Samir Nasri, Marouane Fellaini, Fernando Reges, Joe Ledley and Massimo Luongo. Visaro players take to the field for one reason – to create. It does not matter who the opposition is or what the score is, they keep challenging the defence and creating opportunities. They know when the whistle blows - it is Game On.
The boot still boasts the same groundbreaking technology with the Vari-zone Ariaprene® upper for incredible ball manipulation and the Low Pressure Zone Instep for instant control now available in Galaxy along with the Bright Cherry Super-Flex soleplate for exceptional ground contact and the Firefly Medial Pivot zone for supremely quick turns.
General Manager of New Balance Soccer Richard Wright said, "We've been working with our pro-players to develop the Furon 2.0 boot and we're really proud of this updated version. The Top Line Lacing and Hybrid Mesh Upper are great adaptations, which we know footballers will really appreciate. The Sprint Spike inspired Collar gives the boot a fresh and modern look.
"Coupled with the Visaro in its new colors, we're confident our range of soccer boots will give attacking players the ability and confidence to take on the pressures of the modern game, meaning its Game Over for the opposition. We know that both Furon 2.0 and Visaro will make a big impact on the pitch in France during the summer."
The new 'Game On or Game Over' film featuring Aaron Ramsey, Álvaro Negredo and Jesús Navas can be viewed here: https://youtu.be/l1dVqELNbE0
Furon 2.0 and Visaro boots are available to pre-order now at www.newbalance.com/football (US residents) and www.newbalance.co.uk/football (UK residents). The boot ranges will be available from 6th June 2016.
About New Balance Football:
New Balance Football takes an original approach to designing and developing product, focusing on the unique needs of the player and the game. This is reflected in the quality of the sponsorships it has secured, including an enviable line up of some of the world's great football clubs including Liverpool FC, Celtic FC, FC Porto, Sevilla FC, Stoke City, and national football teams, Costa Rica and Panama as well as a roster of top flight players who excel at the highest level of the game. For more information about New Balance Football, visit www.newbalance.com/football.  New Balance Football can be found on Facebook, Twitter, Instagram, Snapchat (NB.Football) and YouTube.
About New Balance:
New Balance, headquartered in Boston, MA has the following mission: Demonstrating responsible leadership, we build global brands that athletes are proud to wear, associates are proud to create and communities are proud to host. New Balance is the only major company to make or assemble more than 4 million pairs of athletic footwear per year in the USA, which represents a limited portion of our US sales. Where the domestic value is at least 70%, we label our shoes Made in the USA. New Balance owns five factories in New England and one in Flimby, U.K. New Balance employs more than 5,000 associates around the globe, and in 2014 reported worldwide sales of $3.3 billion. To learn more about New Balance, please visit www.newbalance.com
Ariaprene is a registered trademark of TIONG LIONG INDUSTRIAL CO., LTD. CORPORATION.  All rights reserved.
CONTACTS
Mary Lawton

Global PR Manager

United States

mary.lawton@newbalance.com

617-746-2525