'MAKE CHANCES' OR 'TAKE CHANCES' - NEW BALANCE FOOTBALL'S FIRST BOOT SILOS CELEBRATE ATTACKING FOOTBALL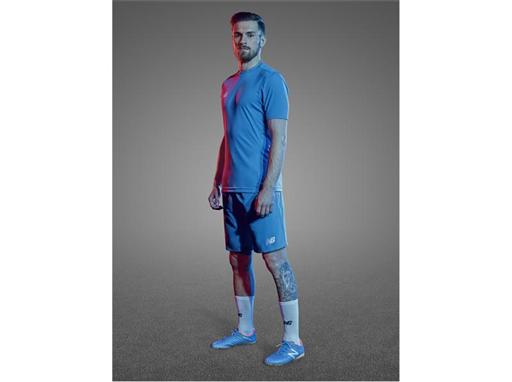 New Balance ask players to define their game with the official release of Visaro and Furon
[TUESDAY 16 JUNE, 2015] New Balance Football today officially reveals the brand's first range of football boots. New Balance has launched two styles of boots; both designed for attack-minded players, but differentiated by style-of-play – a player's philosophy. The Visaro boot is for players who 'Make Chances' and the Furon boot for players who 'Take Chances'; it's not position-specific, its outlook-specific.  
Visaro is designed for the players who need to be everywhere at once; those who are surging forward from box-to-box or wing-to-wing. It features a Vari-zone Ariaprene® upper for incredible ball manipulation, a Super-Flex soleplate for exceptional ground contact and a low pressure zone Instep for instant control. These players play a pivotal role for the team, so a Medial Pivot zone has been built for supremely quick turns. Players wearing Visaro still can take advantage of the Fresh Foam insock, which provides superior cushioning, and a pro-form last for unsurpassed feel and unbelievable comfort. Visaro players control the game with exceptional ball retention and creative distribution. They control the game with their vision; making passes that others can't.
As someone who makes chances on the pitch, New Balance football athlete Aaron Ramsey is the perfect player to wear Visaro. "These boots are multifunctional, helping me in all the most important areas which allows me to play to my full potential. They work with my instinctual movements during games and give me the confidence to supply the players around me who take chances." 
Players who make chances on the pitch aim to find their teammates who specialise in taking those chances and securing victory. Furon is designed for these players.
Furon players need to be in the right place at the right time. They burst into space; ghosting past markers, first to the ball every time. They can take advantage of an engineered high energy return upper for explosive release velocity, and a stiffened soleplate for exceptional energy return and unparalleled acceleration. Also built into the boot is ultra-directional stud design for unrivalled straight-line speed.
Furon players receive outstanding strength and support from the ultralight Fantom Fit cage. A Fixed Revlite insock provides superior cushioning and a pro-form last gives unsurpassed feel and unbelievable comfort. Furon players show no mercy. They react first to define the match outcome. They score from nowhere and everywhere with deadly accuracy; striking cleanly and quickly.
Straight-line speed and taking chances are characteristics that New Balance football player Adnan Januzaj has in abundance. Januzaj spoke about the boot that he has been testing for some time: "What has been clear right from the start is that New Balance set out to design a boot to help attacking payers – I have worked closely with them from the original prototype to ensure they achieve this. This boot feels like it's been made especially for me and I know others will feel the same way."
The New Balance R&D team have worked hand-in-hand with New Balance pro-players, using elite athlete specific data to create the boot design. The two designs give players of all abilities a boot that feels customised to suit their game.
Global Head of New Balance Football Richard Wright spoke with pride at the release of New Balance's first boot range: "Over 90 minutes, players cover more ground than ever before and the distances run in football far exceed that of any other sport. We have a very strong heritage in running and applying this expert knowledge to the endurance and high intensity of football."
"We recognise that the modern game is powered by attacking football. Therefore, we have developed two styles of boots for attack-minded players. The players that 'Make Chances' and the players that 'Take Chances'. We believe these boots will meet the player's performance demands and amplify their unique set of skills - not only just at the top level of the game but at every level of football."
Visaro and Furon are available to pre-order now at www.newbalance.com/football (US residents) and www.newbalance.co.uk/football (UK residents). The boot ranges will be available from 1st July 2015.
ENDS
About New Balance Football
In 2015, New Balance is bringing its expertise, passion, and innovation to the world's greatest game, football.  New Balance Football takes an original approach to designing and developing product, focusing on the unique needs of the player and the game. This is reflected in the quality of the sponsorships it has secured, including an enviable line up of some of the world's great football clubs including Liverpool FC, Celtic FC, FC Porto, Sevilla FC, Stoke City and national football teams, Costa Rica and Panama as well as a roster of top flight players who excel at the highest level of the game. For more information about New Balance Football, visit www.newbalance.com/football.  New Balance Football can be found on Facebook, Twitter, Instagram and YouTube.
About New Balance:
New Balance, headquartered in Boston, MA has the following mission: Demonstrating responsible leadership, we build global brands that athletes are proud to wear, associates are proud to create and communities are proud to host. New Balance is the only major company to make or assemble more than 4 million pairs of athletic footwear per year in the USA, which represents a limited portion of our US sales. Where the domestic value is at least 70%, we label our shoes Made in the USA. New Balance owns five factories in New England and one in Flimby, U.K. New Balance employs more than 5,000 associates around the globe, and in 2014 reported worldwide sales of $3.3 billion. To learn more about New Balance, please visit www.newbalance.com
Ariaprene is a registered trademark of TIONG LIONG INDUSTRIAL CO., LTD. CORPORATION.  All rights reserved.
CONTACTS
Mary Lawton

Global PR Manager

United States

mary.lawton@newbalance.com

617-746-2525