NEW BALANCE HONORS MOTHER'S DAY WITH NOTEPAD PRINT BASEBALL CLEATS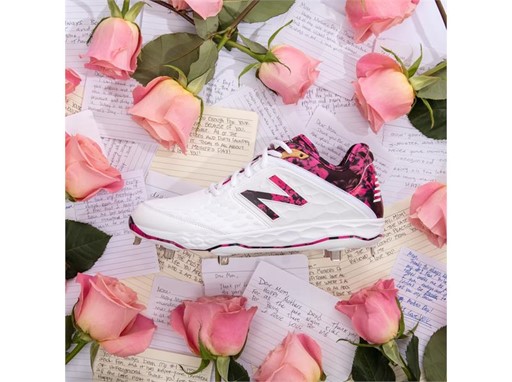 --100% of Mother's Day Cleat MSRP Benefits Boys & Girls Clubs of America--
Boston, MA
(May 1, 2019) – Over 300 professional baseball players on Team New Balance's roster will honor Mother's Day on May 12
th
by writing personal notes on their cleats. The new Mother's Day 3000v4 baseball cleat, now available to purchase on
www.newbalance.com
, features notebook pad print on the upper for athletes to write a personal note to the mothers in their lives. In May 2019, New Balance will donate 100% of the MSRP from the Mother's Day 3000v4 cleat to Boys & Girls Clubs of America, in support of kids chasing their dreams and those that help them along the way.
The inspiration behind the notebook pad print dates back to the origin story of the Mother's Day holiday – honoring mothers through handwritten letters expressing love and gratitude. The Mother's Day 3000v4 cleat emphasizes both personalization and sentiment. "I learned the lesson of family first from my mother. You always have to work hard to keep your family safe. One day I'm going to bring her to Fenway to watch me pitch a game," said Boston Red Sox Eduardo Rodriguez who has his Mother's name tattooed on his left arm. Rodriguez will be among the 300 Team New Balance athletes writing a personal note to their mother during the Red Sox game on May 12th.
Doing well and doing good is part of the unchanging core and future vision of New Balance. "We are honored to have New Balance as a dedicated partner that shares a commitment to America's youth. The Mother's Day proceeds will go towards our mission of helping kids and teens achieve great futures," said Chad Royal-Pascoe, National Vice President, Corporate and Cause Partnerships. The result is young people realizing their full potential as healthy, productive citizens.
The Mother's Day 3000v4 features a medial side notebook print, full-length Fresh Foam midsole, wood-grain TPU eyelets and a combo poly/TPU mesh upper. To learn about New Balance Baseball, follow @NBBaseball on
Instagram
and
Twitter
.
About New Balance
New Balance, headquartered in Boston, MA has the following mission: Demonstrating responsible leadership, we build global brands that athletes are proud to wear, associates are proud to create and communities are proud to host. Manufactured in the U.S. for over 75 years and representing a limited portion of our U.S. sales, New Balance Made U.S. is a premium collection that contains a domestic value of 70% or greater. New Balance owns five factories in New England and one in Flimby, U.K. New Balance employs more than 6,000 associates around the globe, and in 2018 reported worldwide sales of $4.1 billion. To learn more about New Balance, please visit 
www.newbalance.com
and for the latest press information please visit
http://newbalance.newsmarket.com
.
About Boys & Girls Clubs of America
For more than 150 years, Boys & Girls Clubs of America (
BGCA.org
) has enabled young people most in need to achieve great futures as productive, caring, responsible citizens. Today, 4,300 Clubs serve 4 million young people through Club membership and community outreach. Clubs are located in cities, towns, public housing and on Native lands throughout the country, and serve military families in BGCA-affiliated Youth Centers on U.S. military installations worldwide. They provide a safe place, caring adult mentors, fun and friendship, and high-impact youth development programs on a daily basis during critical non-school hours. Club programs promote academic success, good character and citizenship, and healthy lifestyles. In a Harris Survey of alumni, 54 percent said the Club saved their lives. National headquarters are located in Atlanta. Learn more at on 
Facebook
 and 
Twitter
.
CONTACTS
Michael Crocco

Global PR Manager

United States

-