NEW BALANCE LAUNCHES THE OFFICIAL 2018 TCS NEW YORK CITY MARATHON COLLECTION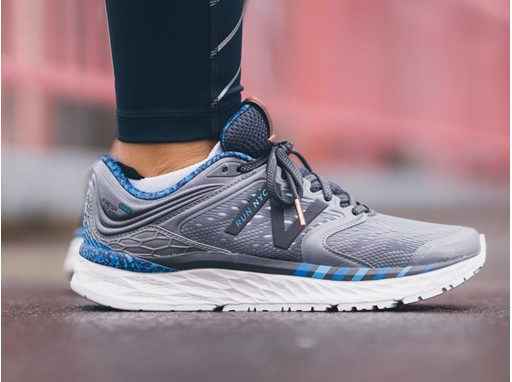 New York, NY - September 5, 2018 - Global athletic leader and TCS New York City Marathon partner New Balance will unveil the official New Balance 2018 TCS New York City Marathon Collection at an exclusive event in the Noho neighborhood of New York tonight. The collection features footwear, apparel and accessories to meet the demands of any runner and those supporting or cheering along the sidelines.
The New Balance TCS New York City Marathon Collection will be available starting September 14
th
, 2018 at select retailers, including the NYRR
RUN
CENTER Featuring the New Balance Run Hub, New Balance NYC Flatiron and
www.newbalance.com
with suggested retail pricing ranging from $30 for graphic t-shirts to $450 for the limited edition, expo-exclusive Marathon Gore-Tex Shell Jacket.
"New York is often called a melting pot, but at New Balance it's more than that. We think of New York, and the Marathon with over 50,000 participants coming from more than 100 countries, as a beautiful, diverse mosaic of people and cultures; where you do not lose your individuality but rather keep it and become part of a larger tapestry," said Deirdre Fitzgerald, New Balance Executive Vice President of Apparel. "The collection features a graphic print, inspired by an aerial image of the starting line, that acts as our mosaic across various pieces in the line. Fashion and technology come together again this year giving runners and spectators alike the best in innovative footwear and apparel."
The highlight of the collection is the wind- and water-resistant Marathon Windcheater Jacket returning in 2018 in five new colors: Laser Blue and Claret for the men, Polaris and Arctic Sky for the women and all-black for men and women. The iconic jacket harkens back to the very first New Balance apparel collection from 1978, updated for today's athlete. Reflective taping across the chest and back pays homage to the original jacket and provides added visibility for low-light conditions. The suggested retail price for the Marathon Windcheater Jacket is $130 and will be available for pre-sale starting Wednesday, September 5th 2018.
Additionally, we are thrilled to debut our newest technology as part of the popular Capsule Collection—NB Radiant Heat which brings superior warmth and a striking aesthetic made for runners.  NB Radiant Heat takes inspiration from silver mylar blankets; our fabrics are coated through a plasma process resulting in enhanced heat reflecting properties.  Our jackets and vests feature a bonded construction for a truly wind resistant body, a PrimaLoft ThermoPlume fill for warmth without weight, combined with the NB Radiant Heat lining to give the runner a pinnacle warming experience.  The Marathon NB Radiant Heat will be available in a marathon exclusive copper color with the suggested retail prices ranging from $160 for the vest to $260 for the jackets. The Limited edition Capsule Collection draws inspiration from the iconic Statue of Liberty, specifically the original copper color of the Statue of Liberty and the seven points on her crown that represent the seven seas and the continents of the world.
The New Balance 2018 TCS New York City Marathon Collection features four popular footwear performance models: the all-new FuelCell Impulse (a brand-new addition to the marathon line-up), 860v8, 1400v6, and Fresh Foam 1080v8. Distinctive design elements on the lace aglets, sock liner, tongue label, NB logo, midsole and outsole set these styles apart in celebration of the TCS New York City Marathon.
FuelCell Impulse: Powered by nitrogen-infused forefoot technology, the new TCS New York City Marathon version of the FuelCell Impulse is designed to provide athletes with a fast ride. This shoe brings a powerful and responsive feeling to life in the forefoot, complimented by a forefoot outsole angle designed to enhance toe off. A speed-oriented upper features a bootie construction for sleek midfoot fit and a double jacquard forefoot for lightweight, breathable performance from a track workout to a training run. MSRP: $134.95
860v9 Marathon: Go-to stability dazzles in this TCS New York City Marathon edition. The TRUFUSE midsole provides a sustained, resilient cushioning system, which is supported by the post-applied medial post for reliable stability. The refined, intricate, engineered textile upper provides sleek support and flexibility, in a more modern and enhanced aesthetic. MSRP: $139.95
1400v6 Marathon: The largest marathon in the world needs a pinnacle racing flat to support its runners. The 1400 takes on a new life in its sixth version with an aggressive new race-ready construction, perfect for a swift 5K or a marathon PR. Heightened in this TCS New York City Marathon edition, the velocity comes to life in the sleek, three-layer mesh package with a bold resin print logo and speedy design. With a REVlite midsole, this shoe is a resilient, snappy ride. MSRP: $109.95
Fresh Foam 1080v8 Marathon: Part of the Marathon Capsule Collection, the Fresh Foam 1080v8 gives even more cushioning than ever before. The plush and stable ride features additional data points to help maximize comfort. Outsole grooves designed from runner data are flexible and designed to help move freely. The bootie construction and engineered mesh upper with no-sew application deliver a secure fit that's made for performance. MSRP: $164.95
In addition, the Marathon Collection will feature a number of New Balance signature performance technologies including NB Heat and NB Ice, aiding runners in training from summer to fall. Runners and spectators will also be treated to a variety of lifestyle options perfect for race day, including gloves, hats, pullovers and graphic tees, tanks and sweatshirts.
About New Balance
New Balance, headquartered in Boston, MA has the following mission: Demonstrating responsible leadership, we build global brands that athletes are proud to wear, associates are proud to create and communities are proud to host. Manufactured in the U.S. for over 75 years and representing a limited portion of our U.S. sales, New Balance Made U.S. is a premium collection that contains a domestic value of 70% or greater. New Balance owns five factories in New England and one in Flimby, U.K. New Balance employs more than 6,000 associates around the globe, and in 2017 reported worldwide sales of $4 billion. To learn more about New Balance, please visit 
www.newbalance.com
and for the latest press information please visit
http://newbalance.newsmarket.com
.
About the TCS New York City Marathon
The TCS New York City Marathon is the largest marathon in the world and the signature event of New York Road Runners (NYRR), the world's premier community running organization. The race is held annually on the first Sunday of November and includes over 50,000 runners, from the world's top professional athletes to runners of all ages and abilities, including over 9,000 charity runners. Participants from approximately 140 countries tour the diverse neighborhoods of New York City's five boroughs—Staten Island, Brooklyn, Queens, the Bronx, and Manhattan. Race morning also features the Rising New York Road Runners Youth Invitational at the TCS New York City Marathon, a race within Central Park that finishes at the same finish line being crossed hours later by the marathon field. More than one million spectators and 10,000 volunteers line the city's streets in support of the runners, while millions more watch the globally televised broadcast. The race is a founding member of the Abbott World Marathon Majors, which features the world's top marathons—Tokyo, Boston, London, Berlin, Chicago, and New York. Tata Consultancy Services (TCS), a leading global IT services, consulting, and business solutions organization, is the premier partner of NYRR and the title sponsor of the TCS New York City Marathon. The 48th running of the TCS New York City Marathon is set for November 4, 2018. To learn more, visit
www.tcsnycmarathon.org
.
###
CONTACTS
Mary Lawton

Global PR Manager

United States

mary.lawton@newbalance.com

617-746-2525