NEW BALANCE USES ARTIFICIAL INTELLIGENCE TO CELEBRATE HOW PEOPLE EXPRESS THEIR INDIVIDUALITY DURING FASHION WEEK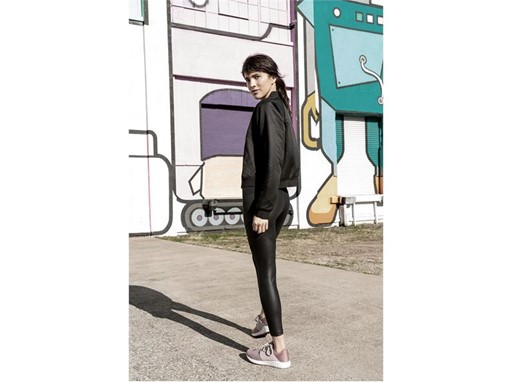 BOSTON – September 6, 2018 – Global athletic leader New Balance announces the launch of Real Time Exception Spotting on September 6 – a one-day activation that uses custom-built artificial intelligence technology to identify and recognize those who stand out from the crowd during New York Fashion Week. Computer vision technology will be deployed in a never-before seen way to gather and display real-time fashion data on the streets of New York. Unsuspecting pedestrians who are identified as defying the norm or, an exception to the data aggregated, will be surprised with a pair of New Balance Fresh Foam Cruz Nubuck shoes and will be featured on a live, digital outdoor display.
"During a week where there is incredible emphasis and excitement around new trends and fashion, New Balance wants to celebrate individuals who are expressing themselves in independent and distinctive ways," says Allie Tsavdarides, New Balance Director of Global Marketing. "New Balance is built on a long heritage of defying convention and we love this opportunity to recognize those who are confidently demonstrating their unique style."
Real Time Exception Spotting technology was created to scan crowds of people, gather inputs and then use that data to identify the anomalies and exceptions to the "norm". The tool will recognize details like patterns, styles and accessories, not just colors and shapes. Unlike regular street photography and trendspotting, this method is not subjective, therefore removes all bias when identifying an individual that stands out from the crowd. Artificial intelligence data, trend reading and aggregation used for this activation is not invasive, does not pick up on personal information or use facial recognition. No personal data will be collected or stored. This is a statistically-based algorithm that only relies on external cues.
Real Time Exception Spotting will take place in the Soho neighborhood of New York City, as well as Toronto, Stockholm and Madrid in September and October. New Balance may use the outcomes and observations from the activation to influence design, color and material trends for future seasons and collections.
Passers-by who are identified as exceptions will be surprised with a pair of the New Balance Fresh Foam Cruz Nubuck in a custom box wrapped with his or her distinctive attributes featured. The Fresh Foam Cruz Nubuck launches September 2018 and features Fresh Foam cushioning for superior plushness, as slip-on construction for easy on/off wear and a premium nubuck leather upper to deliver sophisticated style. The New Balance Fresh Foam Cruz Nubuck has an MSRP of $89.95.
Global marketing agency VML concepted this data-based stunt to flip the script on Fashion Week at a time when everyone is trying to stand out, but often in the same ways. VML worked with creative production partner
Tool of North America
and was led by their Innovation directing team nøcomputer, to develop the parameters of the computer vision and execute the stunt to celebrate and reward individuality in an unexpected way.
For more information, please visit New Balance on Instagram, Facebook, Twitter and Snapchat @newbalance, Instagram at @nbwomen and join the conversation using #BeTheException #FreshFoam Cruz.
About New Balance
New Balance, headquartered in Boston, MA has the following mission: Demonstrating responsible leadership, we build global brands that athletes are proud to wear, associates are proud to create and communities are proud to host. Manufactured in the U.S. for over 75 years and representing a limited portion of our U.S. sales, New Balance Made U.S. is a premium collection that contains a domestic value of 70% or greater. New Balance owns five factories in New England and one in Flimby, U.K. New Balance employs more than 6,000 associates around the globe, and in 2017 reported worldwide sales of $4 billion. To learn more about New Balance, please visit 
www.newbalance.com
and for the latest press information please visit
http://newbalance.newsmarket.com
.
About VML
VML is a lead marketing agency that transforms brands through a connected consumer experience. VML's clients include Bridgestone, Colgate-Palmolive, Electrolux/Frigidaire, Ford, Microsoft, New Balance, PepsiCo, Sprint, Tyson and Wendy's. Founded in 1992 and headquartered in Kansas City, Missouri, VML joined the world's largest communications services group, WPP, in 2001. VML has more than 3,000 employees with principal offices in 33 locations across six continents. For more information, visit
www.vml.com
.
About Tool of North America
Tool of North America
is a creative production partner that concepts, creates and executes award-winning advertising and marketing for the world's bravest brands and advertising agencies. Tool is powered by its best-in-class roster of directors and its nimble approach to storytelling at the pace of culture and innovation, operating on a truly integrated model of deep specialties - from Live Action to Experiential, VR and AI - that are inspired by and inform one another, and work together seamlessly. In addition to producing hundreds of television commercials and digital campaigns annually, Tool collaborates directly with top brands like Airbnb, Amazon, Netflix and Facebook. Its roster stands at the forefront of innovation for integrated productions and includes legendary motion artist GMUNK (Tron), Floyd Russ (Love Has No Labels, SK-II "Marriage Market"), Danielle Levitt (Love Has No Labels, Planned Parenthood's "I Defy"), Golden Globe-nominee Marc Forster (Quantum of Solace, Finding Neverland, Walmart), Tool's acclaimed founder and director Erich Joiner, and many others. Since its launch, Tool has created work that has won over 400 prestigious awards, including Emmys, Cannes Lions, The One Show, SXSW, and AICP. Tool was also named to Creativity's Production Company A-List honors from 2015-2018, and in 2016, the company was awarded Cannes Lions' highest production honor, the Palme d'Or. www.toolofna.com // @toolofna
CONTACTS
PR Intern

-

United States

media.relations@newbalance.com

617-783-4000

Joanna Howarth

PR Senior Manager

United States

Joanna.howarth@newbalance.com

-