STEPS TO BEIJING WITH TEAM NEW BALANCE ATHLETE JENNY SIMPSON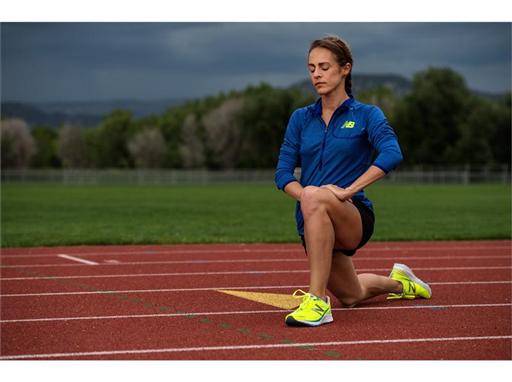 BOSTON,  MA –Global athletic leader New Balance will launch the first, of a four part online documentary series following Team New Balance Athlete Jenny Simpson as she trains for the 2015 World Championships in Beijing, China. The first episode will premiere Thursday, August 6, 2015 on the brand's website and YouTube channel and a new episode will debut weekly leading up to the IAAF World Championships which start on August 22nd. The title of the series, "Steps to Beijing", echoes constant motion and that no one race or training session make a season, instead it is a combination of months of hard work and dedicated training toward a single goal.
Jenny won the gold medal in the 1500m at the 2011 World Championships in Daegu, South Korea. She then came back to the next World Championships in Moscow, Russia in 2013 narrowly missing out on the gold medal. With Jenny's silver medal in 2013 and the subsequent 2014 IAAF Diamond League title she became the most decorated American woman in the 1500m and further solidified herself among the world's best in the distance.
"Jenny's desire to win and her relentless approach to training are apparent in this documentary," says John Evans, General Manager of Running Sports Marketing at New Balance. "Jenny is an integral part of the New Balance running family and an outstanding ambassador for our Always in Beta mentality. This series is a behind the scenes look at the work, lifestyle and commitment it takes to be the world's best."
The first episode starts with the number of steps Jenny will take to train for the world championships, 2,040,805, and 0.32 seconds represents the margin between gold and silver in 2013. Then the episode begins to explore how she is preparing to push herself in Beijing. As the episodes roll out, they continue to explore Jenny's preparation, the highs and lows that come with being a professional runner training for a world championship and the amount of support and sacrifice it takes to be the best.
The film was produced by NAIL out of Providence, RI and directed by Emmy Award winning Tiny Elephant which was founded by Jeffrey DeChausse. "Jeffrey is a talented story teller who has the rare ability to document reality in a beautiful cinematic way," said Brian Gross, Creative Partner at NAIL.
The video features the Vazee footwear collection and the Made for Movement Seamless apparel collection. For more information on New Balance product or to watch episodes visit www.newbalance.com.
CONTACTS
Mary Lawton

Global PR Manager

United States

mary.lawton@newbalance.com

617-746-2525

Caitlin Wholey

Global PR Coordinator

United States

caitlin.wholey@newbalance.com

617-779-7411