UMass Boston Establishes Motley Chair to Head New Sports Leadership and Administration BA Program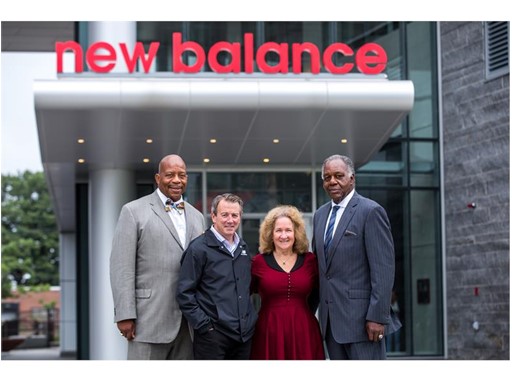 Program Funded by Record Campus Gift of $5 Million from New Balance
(Boston, Sept. 19, 2018)— The University of Massachusetts Board of Trustees today unanimously approved the creation of the Dr. J. Keith Motley Chair for Sports Leadership & Administration at UMass Boston.  The chair will head a new sports management and leadership Bachelor of Arts program enabled by a $5 million pledge—the largest in UMass Boston history—from the Boston-based global athletic apparel and footwear leader, New Balance.
"Dr. Motley has dedicated his professional life to education and youth development," said UMass Boston Chancellor Katherine Newman.  "He is beloved by students and faculty at the university, where he served as Chancellor for over a decade.  Endowing this chair in his name will serve to inspire everyone who participates in a program that embodies the spirit of his life's work." 
"We are enormously thankful for the generosity of New Balance in enabling a program that aligns perfectly with the UMass Boston mission by creating a whole new area of opportunity in a key industry for members of the diverse community we serve," she added.
"New Balance is proud to reflect Dr. Keith Motley's tremendous passion and dedication to youth and education through this innovative sports management and leadership program that will enable UMass Boston students to be uniquely prepared for career opportunities in the sports industry," said Rob DeMartini, President & CEO of New Balance.
In addition to serving as the eighth chancellor of UMass Boston, Dr. Motley, a former college basketball coach himself, founded the Roxbury Preparatory Charter School, the Concerned Black Men of Massachusetts and the Paul Robeson Institute for Positive Self-Development.  He also serves on numerous boards with local and national reach.
"Endowing the chair in my name is both a tremendous personal honor and a tribute to my family members and mentors, both academic and athletic, who instilled in me a love of, and passion for, helping young people.  The partnership between these giants of the academic and athletic worlds will help create a generation of leaders who will contribute at the highest level of sports administration," said Motley.
The holder of the Dr. J. Keith Motley Chair for Sports Leadership and Administration will serve as director of, and teach in, the new sports management and leadership Bachelor of Arts program.  In searching for the inaugural chair, UMass Boston will seek an internationally renowned scholar with expertise in the global sports industry and a deep understanding of current sport management.  The chair must also recognize the value of practical and experiential learning as well as UMass Boston's unique social justice mission and role as an engine of upward mobility.
"This very exciting public-private partnership between Boston's only four-year public higher education institution and a Boston-based leader in the sports industry will have a positive impact on generations of young people while providing significant benefits to the industry at the local, national and international levels," said Charlie Titus, Vice Chancellor of Athletics and Recreation at UMass Boston.
According to Titus, who was instrumental in shaping the sports leadership program, it is designed to create new career pathways and bring additional diversity to the leadership and management ranks of the sports industry. By educating students in the foundations of sport, leadership and management, finance and economics, sports marketing and communications, ethics and sports law, and innovation and entrepreneurship, this new complement of sport leaders will be able to take their place in a dynamic and growing industry.  Available beginning in the Fall 2019 semester, the program will take 25 full-time and 10 part-time students in the first year and scale up to a total of 140 students in steady state.
A distinguished advisory board of sports legends will help to guide the program and develop internships for the students.  Olympic track star (and UMass Boston honorary degree recipient) Edwin Moses, former New England Patriot Andre Tippett, Boston Celtics star Tom "Satch" Sanders, and Baseball Hall of Fame executive Jeff Idelson, are among the organization's members.  Representatives of the Boston Red Sox and Fenway Sports Group, Boston Bruins, Boston Athletic Association, Boston Celtics, City Year, Boston Sports Museum, Bank of America, Citizens Bank, New England Patriots, ESPN, Reggie Lewis Center and New Balance will round out the powerhouse board.  
About UMass Boston
The University of Massachusetts Boston is deeply rooted in the city's history, yet poised to address the challenges of the future. Recognized for innovative research, metropolitan Boston's public university offers its diverse student population both an intimate learning environment and the rich experience of a great American city. UMass Boston's 11 colleges and graduate schools serve 16,000 students while engaging local and global constituents through academic programs, research centers, and public service. To learn more, visit 
www.umb.edu
.
About New Balance Athletics, Inc.
New Balance Athletics Inc., headquartered in Boston, MA has the following mission: Demonstrating responsible leadership, we build global brands that athletes are proud to wear, associates are proud to create and communities are proud to host. Manufactured in the U.S. for over 75 years and representing a limited portion of our U.S. sales, New Balance Made U.S. is a premium collection that contains a domestic value of 70% or greater. New Balance owns five factories in New England and one in Flimby, U.K. New Balance employs more than 6,000 associates around the globe, and in 2017 reported worldwide sales of $4 billion. To learn more about New Balance, please visit 
www.newbalance.com
and for the latest press information please visit
http://newbalance.newsmarket.com
.
CONTACTS
Amy Dow

Director Public Relations and Government Affairs

United States

617-746-2214