NEW BALANCE LAUNCHES RUNIQ AS BRAND'S FIRST WEARABLE DEVICE PROUDLY MADE BY RUNNERS FOR RUNNERS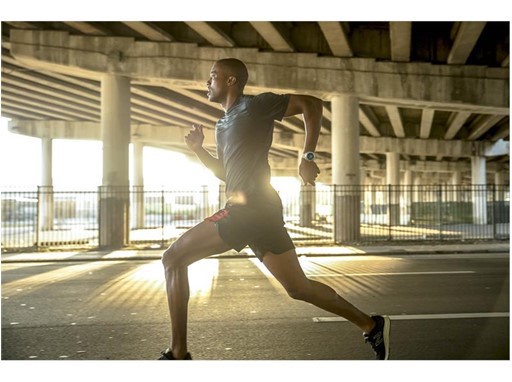 BOSTON, January 4, 2017 – Global athletic leader New Balance announced its inaugural smart wearable from the Digital Sport Division with RunIQ, a "made to run" smartwatch built in collaboration with leading digital, hardware and software companies, including Intel, Google, and Strava, at the International Consumer Electronics Show (CES) in Las Vegas today.  In tandem with the launch of RunIQ, New Balance will also debut PaceIQ, Bluetooth wireless sport headphones, with sound by Jabra- the provider of premium sound solutions for sports enthusiasts. RunIQ delivers the perfect combination of the best running features in a stylish accessory that you can wear all day.
Specifically designed for runners by runners, RunIQ helps athletes focus on their performance, engineered with Intel Inside® featuring a built-in GPS, heart rate monitor, lap button, interval capability, and marathon distance battery life to help you get the most out of your run.
"New Balance has a 110-year heritage of product development and innovation in the running category, and RunIQ represents our commitment to helping athletes achieve unparalleled fitness experiences," said Rob DeMartini, President and CEO of New Balance.  "A smartwatch for runners made by runners, RunIQ combines our expertise in running with the best engineering advances through breakthrough collaborations with some of the biggest players in the technological industry."
Through the collaboration with Strava, RunIQ allows runners to seamlessly upload and share workouts with their global community of athletes.  A built-in GPS allows for course tracking, pace and distance measurement while the heart rate feature monitors in real time.  With up to 24 hours of battery life with typical use or up to 5 hours of continuous life with GPS and heart rate monitoring, runners can track their marathon event.   Runners can sync, store and listen to Google Play™ Music from an Android phone and stay connected to smartphone notifications for on-the-go replies when connected to Wifi or Bluetooth.  RunIQ is also waterproof up to 5 ATM. 
"Intel technology is reinventing the boundaries of computing to evolve the way people get fit, stay active and improve their performance," said Brian Krzanich, CEO of Intel Corporation. "Our collaboration with New Balance brings to market a smartwatch with enhanced design and functionality, resulting in a smart and connected device for runners that makes amazing experiences possible."  
To complement RunIQ, New Balance has created a unique digital experience through the New Balance Global Run Club.  This digital and physical community of runners is powered by Strava, the social network for athletes, and utilizes its platform to bring New Balance runners together, online and offline. NB Run Club runners use Strava to connect with each other, track performance, share their favorite routes and celebrate accomplishments.  NB Run Club athletes also participate in group and individual virtual training programs for key races and running events, as well as virtual races between individuals and clubs.  Lastly, physical NB Run Club activity is centered in New Balance stores and includes local runs, group training, alternative training and classes.
Fully integrated with RunIQ, the PaceIQ are lightweight wireless sports headphones that offer premium sound quality, a secure fit and a rapid charge capability. They allow the user to run free of wires and features a dedicated Sports Button that provides real-time audio in-ear RunIQ performance updates to help enhance training effectiveness. The PaceIQ also enable easy remote control access for both music and calls. When used with the New Balance RUNIQ, the PaceIQ is an easy-to-use training partner.
"Jabra PaceIQ Wireless not only extends our range of unique sports audio solutions, but helps athletes enhance their sports experience too," said Calum MacDougall, SVP Marketing, at Jabra.  "These headphones are made with best-in-class sound technology which means that you have access to premium sound quality for improved motivation."
Available for pre-order at newbalance.com starting January 4, RunIQ will launch at retail with an MSRP of $299.99 on February 1st.  RunIQ will be available at launch in black and gray face, accessories including watch bands and chargers also available.  PaceIQ will be available at retail February 1st with an MSRP of $109.99 and include 3 sets of EarGels™, 1 FitClip™ and a USB cable.
RunIQ was developed through New Balance Digital Sport, a division formed in 2015 to connect consumers with technologies to improve their athletic performance.  Android Wear and Google Play are trademarks of Google Inc. 
About New Balance
New Balance, headquartered in Boston, MA has the following mission: Demonstrating responsible leadership, we build global brands that athletes are proud to wear, associates are proud to create and communities are proud to host. New Balance is the only major company to make or assemble more than 4 million pairs of athletic footwear per year in the USA, which represents a limited portion of our US sales.  Where the domestic value is at least 70%, we label our shoes Made in the USA. New Balance owns five factories in New England and one in Flimby, U.K. New Balance employs more than 5,000 associates around the globe, and in 2015 reported worldwide sales of $3.72 billion. To learn more about New Balance, please visit 
www.newbalance.com
and for the latest press information please visit
http://newbalance.newsmarket.com
.
About Intel
Intel (NASDAQ: INTC) expands the boundaries of technology to make the most amazing experiences possible. Information about Intel can be found at newsroom.intel.com and intel.com.
About Jabra
Jabra is a leading international developer and manufacturer of a broad range of communications and sound solutions committed to let people hear more, do more and be more than they ever thought possible. The consumer and business divisions of Jabra markets corded and wireless headsets, plus mobile and in-office speakerphones that empower individuals and businesses through increased freedom of movement, comfort, and functionality. Jabra employs around 1000 people worldwide and in 2015 produced an annual revenue of DKK 3,229 million.
Jabra is the brand of GN Netcom, a subsidiary of GN. As part of the GN group Jabra has a reputation for innovation, reliability, and ease of use that goes back almost 150 years. GN comprises a unique portfolio of medical, professional & consumer sound solutions that make life sound better through its research, insights, and expertise in sound. GN operates in more than 90 countries across the world, has more than 5,000 employees and is listed on Nasdaq Copenhagen. 
www.jabra.com
© 2015 GN Netcom A/S. All rights reserved. Jabra® is a registered trademark of GN Netcom A/S. All other trademarks included herein are the property of their respective owners. (Design and specifications subject to change without notice).         
About Strava
Strava
unlocks potential through the power of sport. Designed by athletes, for athletes, Strava's mobile apps and website connect millions of people through the sports they love. 
###
CONTACTS
Mary Lawton

Global PR Manager

United States

mary.lawton@newbalance.com

617-746-2525